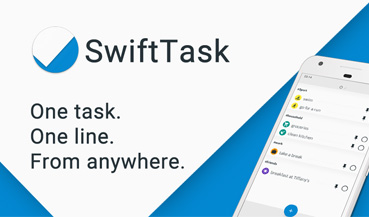 SwiftTask (2018)
A swift todo app
Add your tasks with all their characteristics like categories, dates and locations in only one line.
The simple input concept not only allows users to add their tasks much faster, but also from Android's notification center without even leaving their current app.
Technical details
This is my second app entirely written in Kotlin.
The app uses the Room Persistence Library to manage the user's tasks in the SQLite database.
Multiple different notification types, such as steady notifications or task reminders. Working together with AlarmManagers and various BroadcastReceivers.
Full Android P integration with Shortcuts, notification channels, use of the Direct reply action, Quicksetting tiles, widgets and Google Assistant support.
Material design 2 compliant with Bottom App Bar, Floating Snackbar and many more things.
The source code will be available soon.